Yen increasingly strengthens and weakens in lockstep with gold

U.S. dollar's negative correlation to gold recently weakened
Investors have traditionally focused on gold's inverse correlation with the U.S. dollar. But perhaps they should be looking at bullion's recent synchronization with the yen.
That's the view of John Goldsmith, deputy head of equity at Montrusco Bolton in Toronto. In a recent internal research note, he pointed out that the yen has tracked gold more closely than any other major currency. The lower part of the graph shows the steadily increasing correlation.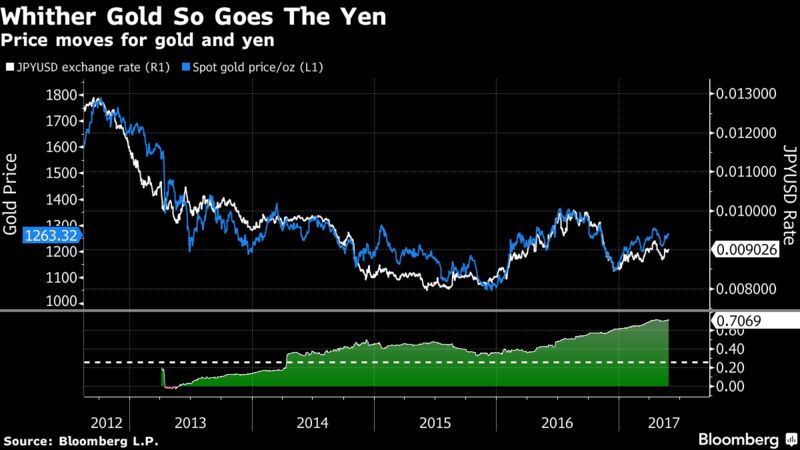 Normally, gold moves in the opposite direction to the U.S. dollar. Factors that push up the greenback — such as the prospect of higher economic growth and interest rates — typically hurt bullion prices, and vice versa. That inverse price movement is shown on this graph.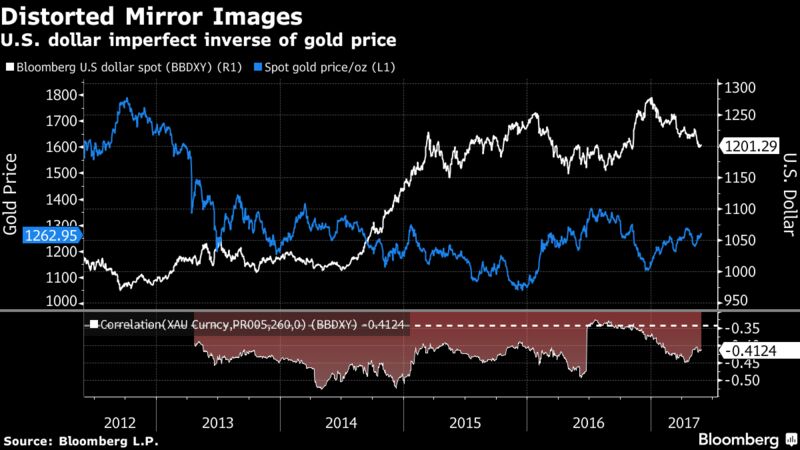 But in the past year the strength of that negative correlation has been uneven. It was dramatically less from the middle of 2016, then strengthened steadily through the first part of this year. In the past month, it has become weaker again.
Meanwhile, the spread between gold's correlation to the yen and its correlation to the U.S. dollar has been widening. At 0.2942, it's currently at the largest since 2013.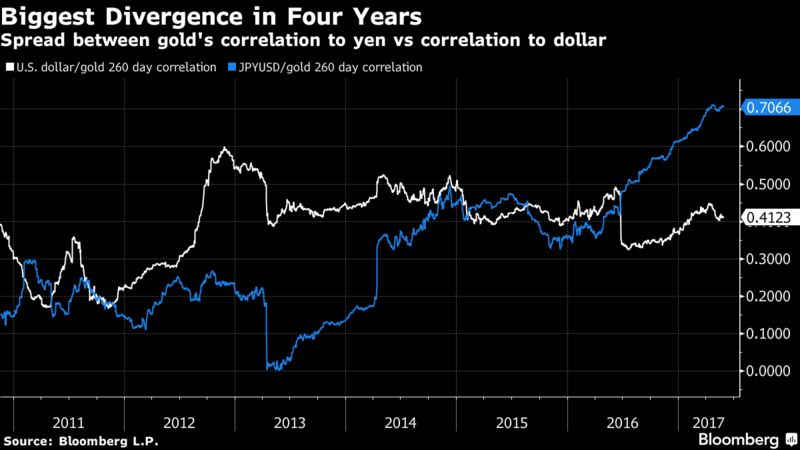 That's partly explained by gold being supported less by inflation concerns than by geopolitics over the past year — particularly since the U.S. presidential election, according to Scotiabank's chief currency strategist Shaun Osborne.
"The yen is viewed as a liquid safe-haven alongside gold," Osborne said. "The U.S. dollar gets less of a bump in times of uncertainty because much of that geo-political concern is U.S.-centric, especially since November." Both the yen and gold have strengthened this year, with bullion rising almost 10 percent.
Another explanation is that both the Japanese currency and gold are closely correlated with U.S. 10-year treasuries — when yields fall, the yen tends to strengthen, and falling yields mean a lower opportunity costs of holding gold, which also boosts prices of the metal.
"What if the reason they're correlated is because they're both correlated to a third thing, which is lower U.S. yields?" said Marc Chandler, senior vice president foreign exchange at Brown Brothers Harriman.
Regardless of the cause, if the strong correlation holds, it means a bullish position on gold is also a bet in favor of the Japanese yen.
(Source)